Creativity's value is often measured by how quickly it can make things happen. A timely idea can promptly do lots of things — it might fire-up an audience, address a misconception or boost a bottom-line. And while it's not always easy to put a price on such ideas, there's seemingly never been a better time to be in the business of creativity.
The modern networked world has created an extraordinary context for our ideas. Today your latest and greatest can be disseminated and adopted at breakneck pace. File sharing service WeTransfer is probably already helping you to do this. Hatched in 2009, it offered a new way for creative people to freely beam their gems digitally from A to B; and in doing so experienced meteoric uptake, racking up over 50,000 users in its first month alone. The growing pains were quick to kick in, and the company's digitally focussed co-founder Nalden has kindly taken to print to explain them here. Growth can be exhilarating, but its consequences bittersweet if they take you by surprise.
For this explosively flavoured issue, we've sparked conversation with people working in many different creative quarters, but united by the vital value that creativity holds in their professional lives. Contributions come courtesy of cooks, hoteliers, product designers, publishers and technolo- gists among other generous kinds.
Collectively their ideas and experiences should help to keep us on the up, but don't feel rushed when pursuing the growth of whatever it is you're working on. As advertising legend Dave Dye points out in this issue — the people getting the most done are normally the ones looking out the window.
— NICK DEFTY, Editor
Bang
Tom Cheshire once again kicks us off, pointing out the pitfalls that loom when businesses get too big too soon. Illustration by Tomi Um.
Ready, Steady, Grow
A burst of busy founders express the point of their beginning and the challenges of growth. From Hulger to the Green Man Festival, from Bear to WeTransfer.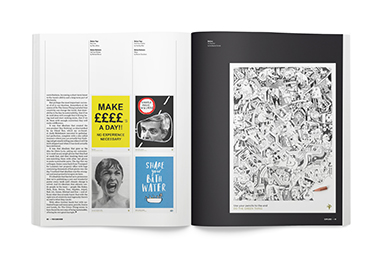 Many Hands
Naresh Ramchandani, partner at Pentagram and co-founder of environmental charity Do The Green Thing, describes how sound creative thinking can blow doors wide open
A Quantity of Quality
Port Magazine's Betty Wood visits a group of businesses; each drawing on traditional production methodologies, and exemplifying traditional British values. Photography by Harry Wood.
The Inside Man
Copenhagen based photographer Alastair Philip Wiper has travelled far and wide in his pursuit of rare industrial facilities to artfully shoot. We follow his deep into the bowels of CERN.
Change Your Mind
This issue's collection of essays come courtesy of contributors including former Wired editor David Baker, BBH Chairman Jim Carroll and ustwo's Scott Ewings. Illustration by Dan Stafford.
Talking to Dawn
In a candid conversation with Paul Flynn at her London home, Director Dawn Shadforth describes the meteoric rise in recognition that creativity can so deftly deliver. Photography by Carol Sachs.
Discover
A rapidly ascending quarter of talents from around the world — taking in illustration, photography and set-design — are presented as part of this issue's extended showcase.